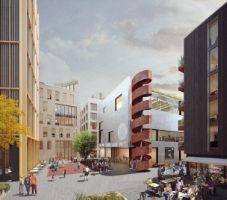 Plans for the regeneration of Circus Street in Brighton were given the green light today when Brighton & Hove Planning Committee voted in favour of the scheme to develop the derelict municipal market in the city centre, a project that will inject £200m into the economy and create 400 jobs.
Planning committee chair Cllr Phélim Mac Cafferty said: "The design of the new Circus Street is absolutely stunning with a carefully-chosen palette of materials which echo the architectural history of the city. The city will have truly visionary architecture which is precisely what we need given the density of the build.
"This year marks 80 years since the demolition of Carlton Mews, Carlton Grove, Circus Court and Circus Mews in the slum clearance of 1934. Today we can say that a phoenix is rising from the ashes. The new Circus Street is the latest and most significant in a series of inner-city renaissance projects which support jobs and the future prosperity of the city. It is a sign of new hope in the city and affirms that our city is a place which looks to the future with confidence."
Said Richard Upton, Chief Executive of Cathedral Group (Holdings) Ltd: "This is great news – our ambition is to transform the area into a vibrant new quarter of the city, bringing cultural, economic and educational benefits to a currently deprived area. Our goal is to make Circus Street the go-to place for Brighton's creative individuals, innovative business start-ups, students and nearby residents."
Professor Julian Crampton, the University of Brighton's Vice-Chancellor, said: "We are delighted that the planning committee has approved this very important development which will have major benefits for the city. Having a high quality new teaching and library space, as well as welcoming public exhibition space and café, will greatly enhance our educational offer at the university. The project will allow the university to further enhance its strong partnerships with the cultural organisations in the city."
Jamie Watton, CEO/Artistic Director, South East Dance, said: 'This fantastic news means The Dance Space can become a reality. The Dance Space will be a vital addition to the dance infrastructure of the whole country as well as a sustainable and permanent home for dance in one of the most deprived areas of this otherwise vibrant city. We are delighted to be the chosen cultural partner for this significant development and to support economic regeneration in our home city.
Central to the Circus Street designs is a public square with small, independent restaurants and shops, larger than Jubilee Square. Opening onto it, the Dance Space is expected to attract 70,000 visitors per year. This state of the art space will be a new home for South East Dance, who currently co-programme dance at Brighton Dome and Festival as well as developing dance across the region and beyond. The Dance Space will bring world-class dance artists and companies in to the heart of the City and connect them to local communities, offering opportunities to create, participate in and see a fantastic range of dance.
The development also includes plans for a new University of Brighton library and academic building with a publicly-accessible exhibition space; 142 new homes, including 28 affordable homes; 450 student bedrooms in quality and managed student halls of residence; and 38,000 sq ft of new office space plus workshops offering creative businesses start up accommodation and room to grow.
Construction will commence in late 2015 aiming to complete the full scheme in mid 2017.
…ends…
Media enquiries: Paula Seager, Natural PR, Tel: 01273 857242, Mob: 07830 300469
Note to editors:
Cathedral (Brighton) Ltd is a joint venture with McLaren and Cathedral Holdings Ltd. In May 2014, Cathedral Group PLC was acquired by Development Securities PLC and now trades as a subsidiary of its parent company.